Plan Your Getaway Weekend. 
Welcome to a Historic Stay.
With over 125 years of catering to weary travelers and tourists in the heart of the Finger Lakes, the Naples Hotel offers you a unique stay in a well-preserved historic building. Each of our rooms have been tailored for you to have a relaxing and worry-free stay. From the comfortable beds & linens to the little details, we have many various accommodations to suit your needs. We know your stay in Naples will be enjoyable….and unforgettable.
KEY INFORMATION TO NOTE PRIOR TO BOOKING A HOTEL RESERVATION (PLEASE READ):
Our hotel is SELF CHECK-IN/SELF CHECK-OUT.  There is no front desk to report to.  Upon arrival, proceed directly to your suite.  
Due to our building being historic, there is NO ELEVATOR ON-SITE.  Guests must be able to climb stairs while carrying their own luggage to all suite accommodations (located on either the building's 2nd or 3rd floors).
We do not have keys to our suites.  All our suites have keypads for locks.  You will receive your entry code via text message prior to your arrival.
Our suites DO NOT HAVE CABLE – only Smart TVs that allow you to log into your digital subscriptions (i.e. – Netflix, Hulu, Amazon Prime, etc.) using our free high-speed wireless connection.
Parking for our overnight hotel guests is either on-street or in the municipal parking lot located behind the hotel.
There is no housekeeping service during your stay.
Our entire property (patios, balconies, suites, alleyways) is smoke-free. 
The on-site restaurant and bars are independently operated.  They have no affiliation with our hotel operations.  If you would like a dining reservation, you will have to contact them directly at (585) 374-5630.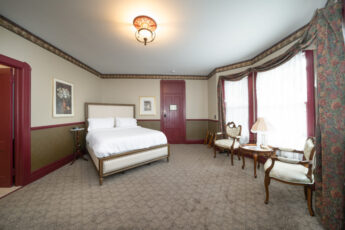 Cabernet Room
With an overlooking view of Main Street Naples out of the bay window, enjoy a stay in our queen standard room.  The open feel gives a spacious are for guests to relax.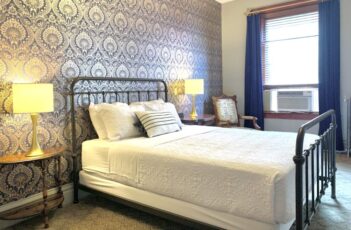 Riesling Suite
Newly renovated, the Riesling Suite offers a queen bed and private sitting room with an electric fireplace.  This suite is also our most active in the paranormal.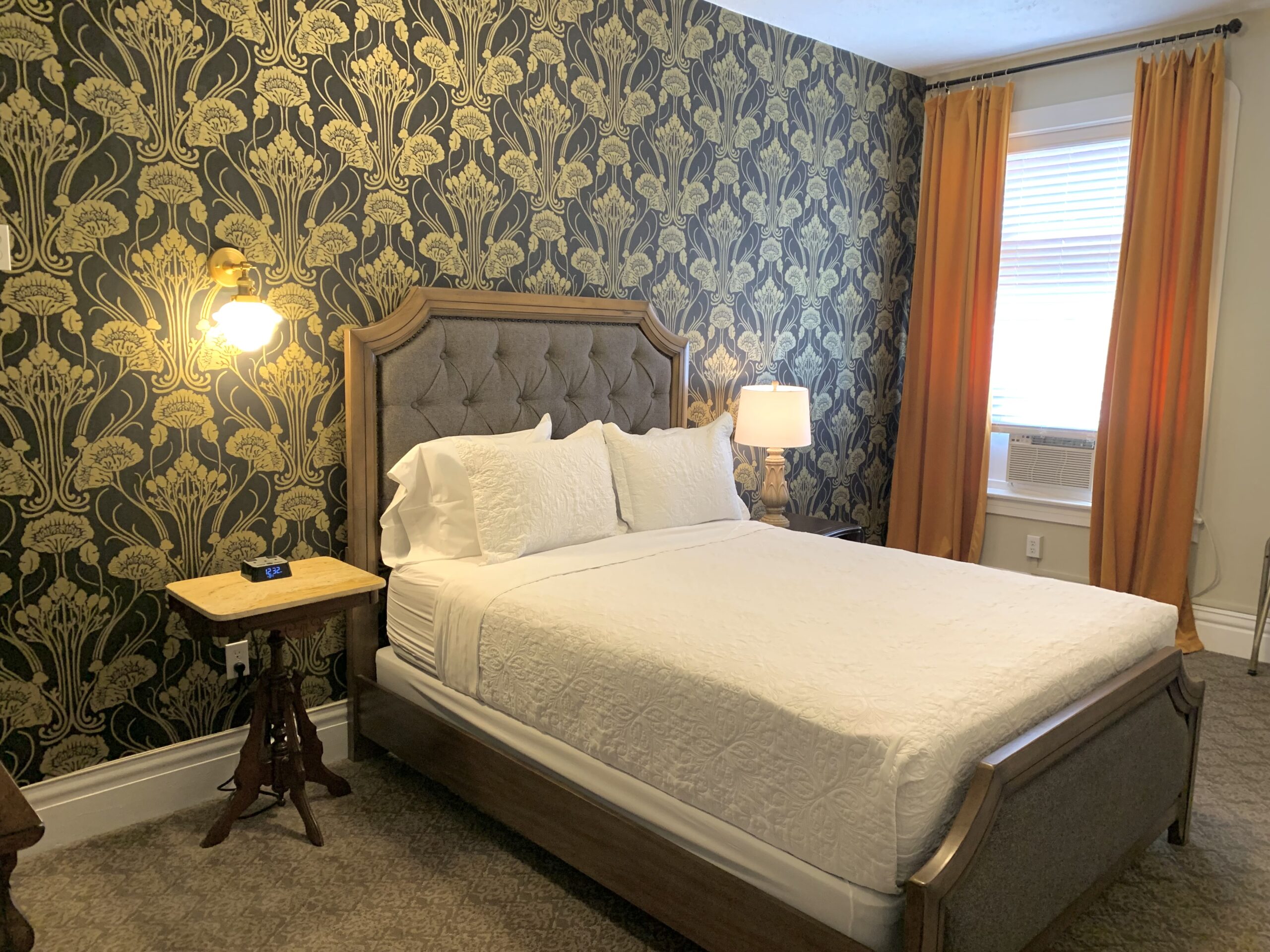 Niagara Suite
Step into our elegant queen-sized suite that offers the finest decor with a private sitting room.  The jacuzzi tub is a couple's dream!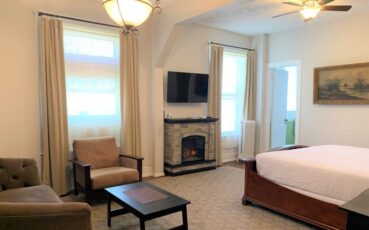 Delaware Suite
Our open concept suite offers a king size bed and loveseat sitting area.  With a newly updated bathroom and electric fireplace, it's time to get cozy!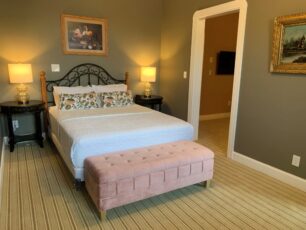 Merlot Suite
This suite's vintage decor will make you feel like you've stepped back into your grandparent's house, but also offers the modern amenities we've come to expect.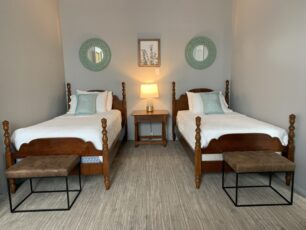 Vineyard Suite
Our largest accommodation offers a King, Queen & two Twin beds making this the perfect suite for families or larger groups.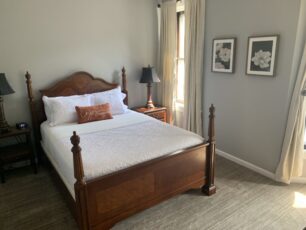 Derby Suite
The morning sun makes this the coziest of all the 3rd floor suites!  Enjoy a queen size bed, remodeled bath and spacious sitting area while overlooking Main Street Naples.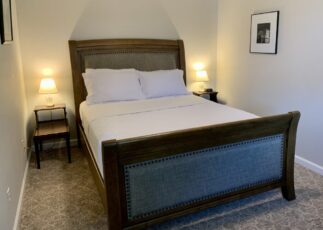 Widmer Suite
Our quietest suite, and located on the 3rd floor, the Widmer offers a queen size bed, sitting area and an updated bathroom.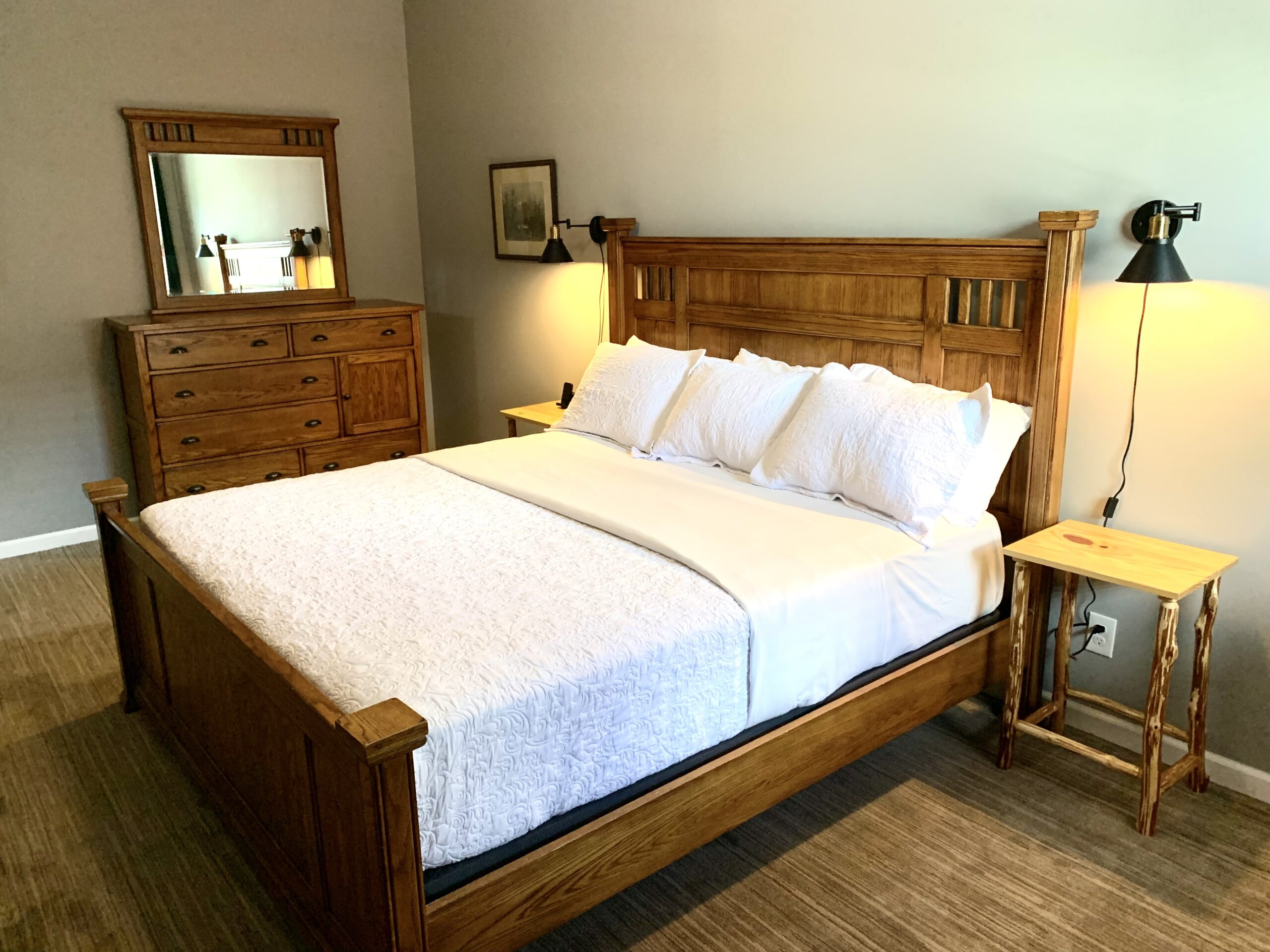 Sutton Suite
Our newest suite is outfitted for the fisherman in you.  Located on the 3rd floor, the Sutton offers a king size bed, living room area with electric fireplace and a bathroom with a stand-up shower.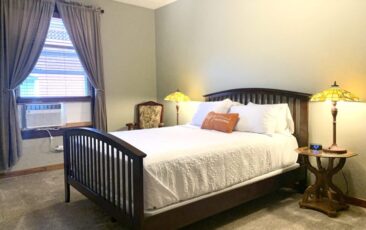 Harvest Suite
This queen-sized suite has been newly renovated and offers spacious accommodations with a full kitchen area.  Located on our 3rd floor, this suite is ideal for single travelers or a couple.
**In an effort for the guests of the Naples Hotel to truly unwind, we ask that they truly unplug as well. Although all our rooms are equipped with free high-speed Wi-Fi & TV's, we do NOT offer Cable TV service. However, each suite is equipped with a Smart TV for our guests that feel the need to watch TV while on vacation. Feel free to log into any of your digital subscribers.
Terms & Conditions
DUE TO COVID-19:
– SELF-CHECK-IN/CHECK-OUT (There is no staff onsite to assist with check-in/check-out)
– DAILY HOUSEKEEPING SERVICES HAVE BEEN SUSPENDED UNTIL FURTHER NOTICE
Check-in/Check-out Policy: Check-in is at 3pm on the day of arrival, and check-out is at 11am on the day of departure. 
Smoking: Naples Hotel is a smoke free hotel. Smoking is prohibited during your stay in all guest rooms and public areas. Guests who violate the policy and smoke in non-designated areas are subject to a minimum $200.00 charge for returning the room to smoke-free status and agree to being charged by accepting this policy.
Parking: Hotel parking is on-street (where available) and in the municipal parking lot located behind the Naples Hotel off Race/Mill Streets.
Amenities: Please be advised that our hotel does NOT offer cable TV. Our suites are all equipped with Smart TV's and Amazon Fire Sticks only. You can log into your Amazon account directly on our TV's and then access any digital subscriber app you have a subscription with (Netflix, Amazon Prime, Hulu, Disney +, etc). If you do not have an Amazon account, please feel free to connect your electronic device (laptop, tablet, cell phone) to our high-speed wireless internet to access all your personal subscription apps.
Occupancy: All rates are based on double occupancy. Additional nightly charge of $25 for each additional person and required roll away bed. Maximum occupancy of (2) two adults per room. No hourly rates available.
Children: We love kids! Please contact the hotel directly when booking reservations with children so we can accommodate your room accordingly.
Accessibility: As the Naples Hotel is a historic hotel, there is no elevator, and all guest rooms are located on the second and third floors. Guests should be comfortable and able to negotiate a flight of stairs.
Pets: Naples Hotel does not have accommodations for pets. We will be happy to supply information for area kennels if necessary.
Usage Policy: We reserve the right to charge for any damage to or removal of items from the premises and/or unusual cleaning. Damaged or missing items from rooms post check-out will be charged to your credit card on file. These include but are not limited to remote controls, linens, pillows, room key, books, etc.
Naples Hotel guest rooms are to be used for hotel guests only, and not for events or gatherings. All gatherings, events, photo shoots and filming are subject to advance approval by the owners. At least seven days advance written notice required prior to any personal or professional photo shoots. No closed-door filming allowed. Additional fees apply. In other words, you may not simply reserve a room for a photo shoot or filming. This also applies to the day of events such as weddings. Please call us at 585-374-5630 for further details. A separate contract is required.
Items left behind and requested to be mailed will incur a minimum charge of $10 and may take up to 15 days to receive. We apologize for any inconvenience. To avoid this, please be sure to thoroughly check your room for items that are of value to you prior to your departure.
Cancellation Policy
As we are a small independent business, cancellations affect us greatly. Therefore, ALL cancellations are subject to a minimum $25 per booked room cancellation fee and are treated as follows:
72 hours or more prior to arrival – $25.00 administrative fee
72 to 24 hours prior to arrival – $75.00 administrative fee
24 hours or less prior to arrival – one night's stay, or deposit amount
All cancellations must be provided to the innkeeper in writing or by calling (585) 374-5630
Reservations made through online travel agencies (such as Expedia, Booking.com or Airbnb) will forfeit the entirety of their payment.
Payment Policy
Our rates are based on double occupancy.
Ontario County Sales Tax (3%) and Ontario County Room Occupancy Tax (7.5%) will be added to the full reservation cost.
Direct reservations are confirmed by payment of your first night in the case of a 2-night or longer stay, OR the full reservation amount for a 1-night stay.
All other channels (e.g. booking.com, etc.) require full payment in advance.
A security deposit authorization of 1-nights stay is required at time of reservation.
No cash accepted onsite, sorry.